Yeah, you! If you'd like a hand making your business just as awesome as you are I'd be happy to help...
*No magic secrets, or other guru nonsense, just a few ideas I picked up going from a Prince's Trust loan to a national company with a couple of Dragons that I'd love to share with you 😉
Marc is utterly humbled to have received the following recognition but hates talking in the 3rd person so will stop, right now!
Winner of a Queen's Award
Beyond a privilege to be recognised by Her Majesty the Queen!
Winning Dragons' Den Investment
I'd love to share what I've learned working alongside a couple of Dragons with you!
TEDx Talk - Testing > Talent
Humbled to share a few ideas with some awesome humans!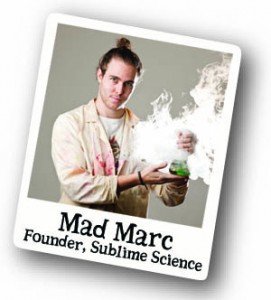 ABOUT MARC WILEMAN:
Hey, I'm Marc Wileman. I'm that guy who walked into Dragons' Den wearing a slime-covered lab coat firing smoke-rings at the Dragons.
Here's How I Can Help:
I spend almost my entire life devoted to 2 things.
Making Science Awesome for 1 million children (by making sweets and slime and blowing stuff up) over at Sublime Science! (We also make school science as awesome as I wish it had been when I was a kid with our Science Workshops for Primary Schools)
Sharing ideas with passionate enthusiastic, action-taking entrepreneurs.
This site is all about sharing everything that I've learned going from a £1,750 Prince's Trust loan to a national company and working with a couple of Dragons. (For all things slime and science - head on over to Sublime Science!)
Check Out What The Dragons Had To Say...
"I love where you started from…you started because you wanted to do some good and not many people start from that and make a really, really good business"

Sarah Willingham

Dragon & (awesome!) investor in Sublime Science
"Congratulations…I have to say that I'm incredibly impressed. It is exceptional"

Peter Jones

Dragon (who did make an offer!)
"I just think that it's wonderful to really inspire kids to take an interest in science so this is right up my street…I'm going to make you an offer"

Nick Jenkins

Dragon & (awesome!) investor in Sublime Science
"I would very much want to be part of it…I think it's very exciting…I'm going to make you an offer. I'm sitting here very excited thinking – 'please let it be me!' "

Deborah Meaden

Dragon (who did make an offer!)